The #GrypAlert system developed by the SensDx Digital Diagnostics team is the first to predict flu and influenza epidemiological outbreaks two weeks in advance. Thanks to the artificial intelligence algorithm using the #GrypAlert system, anyone can get information about the risk of influenza and flu-like infections in their region early enough.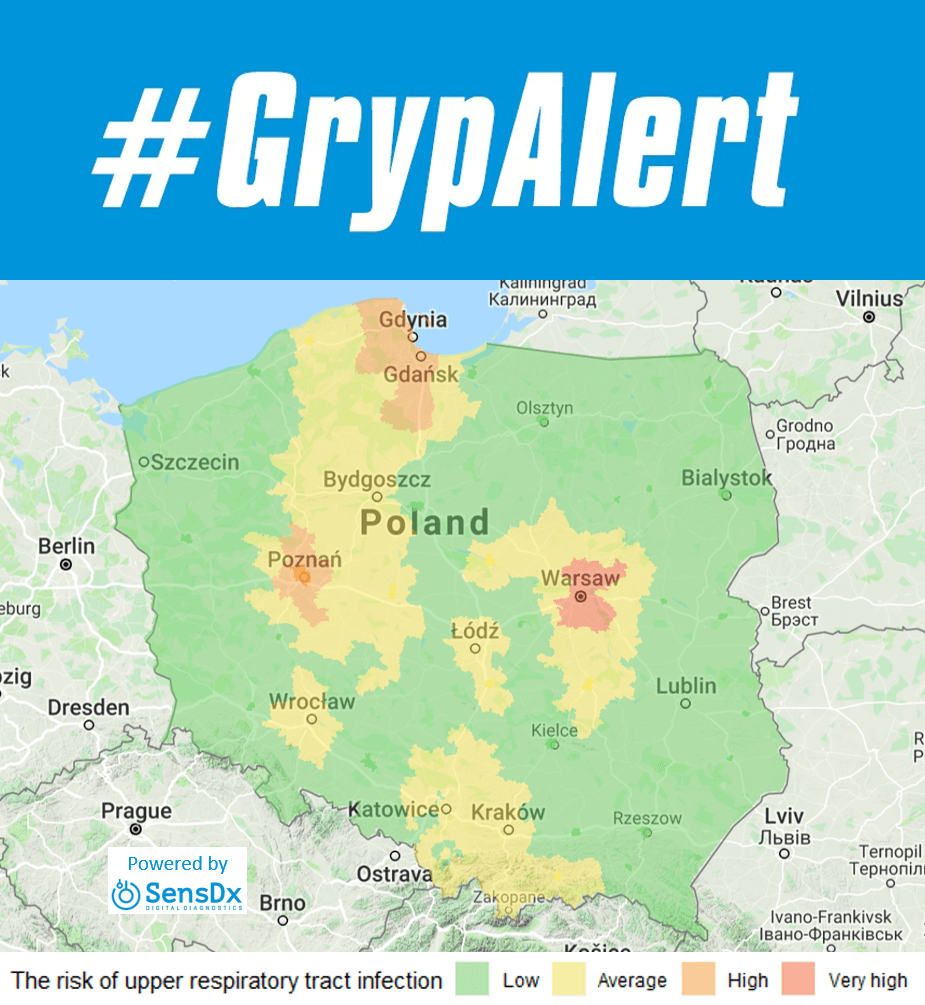 Period: 7-21.11.2019
Influenza and flu-like infections subside. We will come back to our reports in September to give you full information about the risk of becoming ill and the need to protect yourself from the diseases.
How to read the map
The #GrypAlert system on the map of Poland divided into poviats illustrates the forecasted epidemiological situation with colors, and thus the threat of influenza and flu-like infection.
By tracking alerts, preventive measures can be grouped according to the level of disease risk.
#GrypAlert Green – low risk of influenza and flu-like infections
preventive measures are not necessary
#GrypAlert Yellow – the average risk of influenza and flu-like infections
pay attention to hygiene in public places
pay special attention to a balanced diet
care for good hydration of the body, increasing the amount of consumed fluids
#GrypAlert Orange – high risk of influenza and flu-like infections
be extra cautious in large human clusters
enrich the diet with ingredients that strengthen the body
eat lots of liquids
avoid crowds and mass gatherings
#GrypAlert Red – very high risk of influenza and flu-like infections
limit the consumption of stimulants
wear a protective mask when in public places
avoid large communities of people as much as possible
What is the #GrypAlert system and how it works
During the flu season, the National Institute of Hygiene publishes very detailed and good quality data on illnesses and suspected influenza and flu-like infections in Poland on its websites. They are used to develop epidemiological plans and protocols and procedures for dealing with medical facilities in Poland in the event of an outbreak of influenza. However, PZH reports are still information developed on the basis of statistical data already collected – knowledge comes after the fact. They do not give time to react, and especially to protect yourself properly.
The #GrypAlert system creates forecasts based on data from PZH reports, which very well reflect the epidemiological situation in Poland. Analytical methods experts from SensDx look for correlations between them and other publicly available data, such as: frequency of entering phrases associated with influenza in search engines, temperature, precipitation, cloud cover, wind and a whole range of other variables that may be associated with morbidity. Based on historical information collected for 2010-2018, the core of the #GrypAlert system was created – an algorithm forecasting the risk of influenza and flu-like epidemiological outbreaks, which analyzes available data using artificial intelligence. System development consists in updating data used to train it and feeding it with data from new sources, in which there is also a signal correlated with influenza and flu-like influenza. This means that our system is learning – with the passage of time its forecasts are becoming more and more perfect.
Being aware of the fact that flu and flu-like infections can be really dangerous, and their complications can be life-threatening and health-threatening, it is only the first step for effective protection. Now, thanks to #GrypAlert, anyone can be warned about the risk of getting sick well in advance, which allows for proper preparation and effective prevention of infection.